Bicester Village Retail Outlet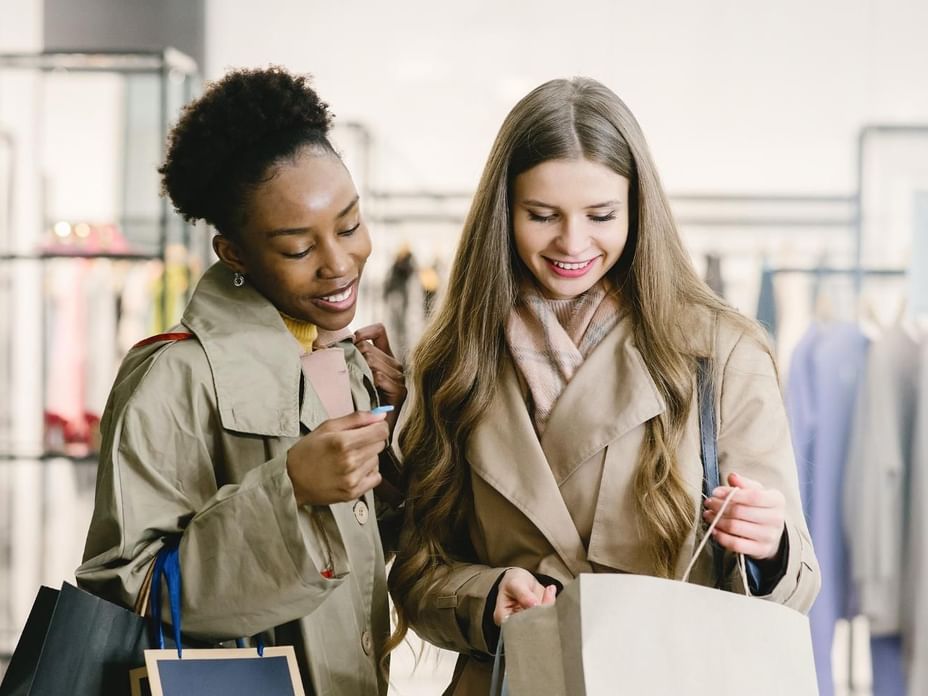 If you're a shopping enthusiast Bicester Village is a must-visit destination.

Visit Bicester Village while staying at Villiers Hotel

It's simple to reach by car or train and is located in the heart of the Oxfordshire countryside.

This fantastic outdoor shopping outlet offers a wide selection of 150 high-end fashion and lifestyle boutiques as well as various dining options.
THE HISTORY OF BICESTER VILLAGE
Bicester Village opened in 1995 marking the beginning of a remarkable shopping experience.

As a founding member of an esteemed collection of 11 shopping destinations worldwide Bicester Village proudly hosts renowned fashion and lifestyle brands at unbeatable prices.

The Village warmly welcomes visitors every day of the week providing a range of convenient services such as a Personal Shopping assistance, the option for Hands-free Shopping, and even Virtual Shopping experiences.
WHERE IS BICESTER VILLAGE IN OXFORDSHIRE? HOW DO I GET THERE?
Location: Bicester Village is located on Pingle Drive, just 10 minutes from Oxford by car and less than an hour from London.

Thanks to it's convenient train access the shopping outlet is also accessible via train from Oxford, Birmingham, and London.
Address: Bicester Village, 50 Pingle Drive, Bicester, Oxfordshire, OX26 6WD
By Car: If you're travelling by car plug the Bicester Village postcode into your navigation (OX266WD).
Parking: Once you arrive there is free parking.
BOUTIQUES AT BICESTER VILLAGE
With a collection of 150 esteemed designer fashion brands ranging from Armani to Dior, Bicester Village has something to delight every shopper.

Embark on a leisurely stroll and immerse yourself in the abundance of offerings at Bicester Village where excitement awaits at every turn.

Savvy shoppers can revel in the fantastic savings available on big brands making it a true haven for those seeking both quality and value.
DINING AT BICESTER VILLAGE
Bicester Village offers a delightful array of dining options that will satisfy any food lover.

From fine dining establishments to street food vendors, exquisite patisseries to cool cafés and even quirky food trucks, there's something to cater to every taste preference.

Whether you prefer to sit down and savour your meal or grab something on-the-go, enjoy the fantastic selection of delectable culinary experiences on offer.

All this can be enjoyed in the picturesque open-air setting, adding to the overall charm of the Village.
IS BICESTER VILLAGE DOG FRIENDLY?
Bicester Village warmly welcomes responsible dog owners and assistance dogs to the premises.

However, it is important to adhere to certain guidelines to ensure a safe and pleasant experience for all visitors.

Dogs must always be kept on a lead while in the Village.

It is the responsibility of the guests to clean up after their dogs and refrain from leaving them unattended in vehicles, especially during warm weather.

Additionally, dogs must be kept on a short lead at all times.

Please note that not all boutiques or restaurants may permit dogs and it is advisable to check with each establishment individually.

It is also important to consider the size of your pet as policies regarding dogs may vary depending on the size of the boutique or restaurant.
BICESTER VILLAGE MAP
Check out all the relevant information on Bicester Village including opening times, boutiques, events & much more HERE.
BICESTER VILLAGE FAQ'S
Q: Is Bicester Village cheaper than retail?
A: At Bicester Village shopping outlet you can save up to 60% on big retail brands.

Q: Do you need to book appointments at Bicester Village?
A: At Bicester Village you have the opportunity to enjoy a personalised shopping experience with the assistance of knowledgeable experts. Simply make an appointment and the Village's team will be delighted to cater to your unique preferences and provide you with a bespoke shopping journey.

Q: Is Bicester Village free parking?
A: Yes, free parking is available at Bicester Village.

Q: Why is Bicester Village so famous?
A: Bicester Village has gained widespread fame for being the founding member of a Collection comprising 11 global shopping destinations. Each of these destinations boasts an impressive selection of world-leading fashion and lifestyle brands, all offered at exceptional prices.

Visit Bicester Village at Villiers Hotel
50 Pingle Drive OX26 6WD Bicester