Buckingham Old Gaol Museum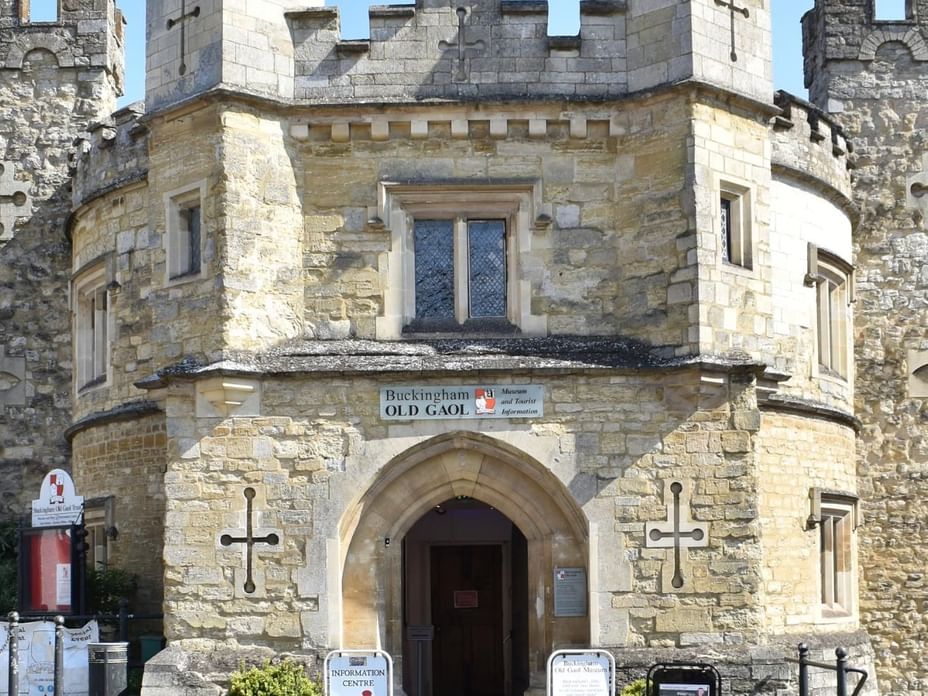 Situated in the charming market town of Buckingham the Old Gaol is a historic landmark that dates back to 1748.

Today, the Old Gaol serves as a museum, a tourist information centre, and a gift shop offering a variety of local interest books.

Visit Buckingham Old Gaol while staying at Villiers Hotel

This iconic building invites visitors to explore its intriguing past including the cells where poachers, intoxicated individuals, and occasional murderers were once confined.
THE HISTORY OF BUCKINGHAM OLD GAOL
The Old Gaol was constructed in 1748 and was funded by Richard Grenville Temple, Lord Viscount of Cobham with the intention of serving as a prison.

Despite its original purpose the Gaol was built in a Gothic architectural style featuring crenulations and arrow-slits resembling a castle.

Over the years modifications were made and throughout its history, the Old Gaol had various uses.

Starting in 1836, it housed the newly-formed Borough Police force, until they relocated to a new station on Moreton Road in 1892.

The Gaol then briefly served as a fire station.

From 1974 Aylesbury Vale District Council (AVDC) owned the Gaol and utilised it for different purposes, such as an armoury, cafe, restaurant, antiques shop, public toilets, and an electricity substation.

In 1985, the Buckingham Heritage Trust was established with the goal of purchasing the building from AVDC.

The Friends of the Museum group was founded in 1991, and in 1993, the Old Gaol Museum was opened.

Recognising its historical significance, the Old Gaol received a Grade II listing in 1952, acknowledging its architectural and cultural importance.
WHERE IS THE OLD GAOL IN BUCKINGHAM? HOW DO I GET THERE?
Location: The Old Gaol is located in the heart of Buckingham town.

Address: Buckingham Old Gaol Market Hill, Buckingham, MK18 1JX

By Car: To get to Buckingham Old Gaol simply pop the postcode into your satnav (MK18 1JX)
Parking: The Old Gaol does not have its own dedicated parking area.

However, visitors have the option of using pay and display car parking facilities located throughout the town centre.
BUCKINGHAM TOURIST INFORMATION CENTRE
The Buckingham Tourist Information Centre situated at the heart of the town within The Old Gaol, serves as an ideal starting point for individuals looking to explore the nearby attractions.

Staffed by knowledgeable local experts the centre provides valuable assistance to ensure visitors make the most of their time in the area.

Whether seeking recommendations, maps, or any other travel-related information, the dedicated team at the Buckingham Tourist Information Centre is ready to assist you.
BUCKINGHAM OLD GAOL PARK MAP
Check out all the relevant information on Buckingham Old Gaol including opening times, admission prices & much more HERE.
BUCKINGHAM OLD GAOL PARK FAQ'S
Q: Is there parking at Buckingham Old Gaol?
A: The Old Gaol does not have its own parking lot. But don't worry, there are pay and display car parking spaces available in various locations throughout the town centre. Additionally, visitors can also use the Cornwalls Meadows car park for parking their vehicles.

Q: When is Buckingham Old Gaol open?
A: The Buckingham Old Gaol welcomes visitors from 10am to 4pm, Monday to Saturday. Please note that the opening days may vary on public holidays.

Q: How much is admission for Buckingham Old Gaol?
A: The admission prices for Buckingham Old Gaol are as follows: £4 for adults, £2 for children, free for children under 5 years old, and £9.50 for families (which includes 2 adults and 3 children).

Q: Does Buckingham Old Gaol offer guided tours?
A: Buckingham Old Gaol provides guided tours for groups with a minimum of 10 people and a maximum of 20 people. To enquire about these tours simply call 01280 823020.

Visit Buckingham Old Gaol at Villiers Hotel
Market Hill MK18 1JX Buckingham