Willen Lake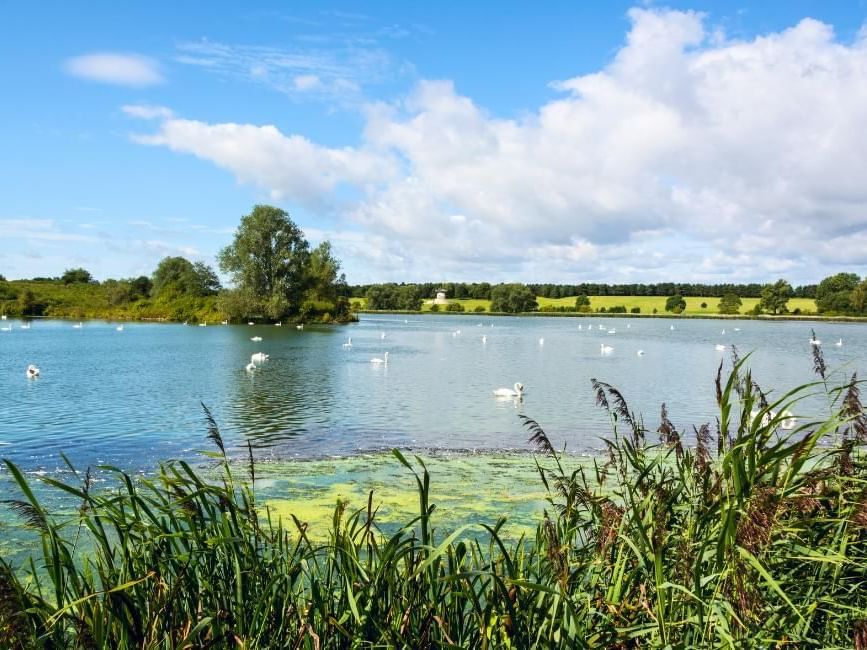 Willen Lake is a beloved park in Milton Keynes offering an array of water sports, a thrilling high ropes course, and a refreshing outdoor splash park.

Visit Willen Lake while staying at Villiers Hotel

Explore the 80 acres of parkland featuring children's play areas and breath-taking lake views and more for a fantastic outdoor experience.
THE HISTORY OF Willen Lake
In the town of Milton Keynes there lies a large lake purposefully built to protect the town from flash floods.It's known as Willen Lake and within it lies an island unofficially called Goat Island.

In 2004 six goats were introduced to the island and lived happily for three years. However, in 2007 tragedy struck when three of the goats mysteriously vanished without a trace, never to be seen again.

Today, Willen Lake Island is part of the northern half of Willen Lake serving as a nature reserve. The southern half of the lake is a leisure facility offering water sports and recreational activities.
WHERE IS Willen Lake IN Milton Keynes? HOW DO I GET THERE?
Location: Willen Lake is situated in the town of Milton Keynes, Buckinghamshire, UK.

Address: Willen Lake, Brickhill Street, Milton Keynes, Buckinghamshire, MK15 0DS

By Car: To get to Willen Lake simply plug the postcode (MK15 0DS) into your navigational system.

Parking: Paid parking is available at Willen Lake.
Activities AT Willen Lake
Nestled in the picturesque town of Milton Keynes, Willen Lake is a haven for water enthusiasts and nature lovers alike.

With its purpose-built lake this recreational paradise offers a wide array of water activities to cater to every taste and skill level.

For those seeking an adrenaline rush windsurfing is a popular choice. If you prefer a more leisurely experience, boat hire is available, giving you the chance to soak in the serene surroundings.

But it's not just about the water at Willen Lake. If you're looking for fun on dry land, you'll find an array of exciting activities to keep you entertained. From archery to fishing there's so much to explore!

Whether you're an adventure seeker or simply want to bask in the beauty of nature, Willen Lake has it all.
Wildlife at Willen Lake
In the charming town of Milton Keynes Willen Lake becomes a bustling sanctuary for an array of fascinating species throughout the year.

However, it is the diverse birdlife that truly captures the hearts of nature enthusiasts. From the majestic Kingfisher to the elegant Grey Heron, the skies and shores are alive with a variety of fantastic birds.

As you stroll along the shores keep an eye out for signs of Otters along the nearby River Ouzel. And if you're lucky during the winter months, you might even catch a glimpse of the playful otters themselves gracefully gliding through the waters of Willen Lake.

Whether you're a seasoned birdwatcher or simply love connecting with nature's wonders, a visit to Willen Lake promises an unforgettable encounter with the fascinating wildlife that calls this picturesque place home.
Events at Willen Lake
Willen Lake hosts a variety of engaging events throughout the year from boat races to marathons.

There's always something exciting to take part in. To explore upcoming events, visit the official Willen Lake website.
Willen Lake MAP
Check out all the relevant information on Willen Lake including water sports, facilities & much more HERE.
Willen Lake FAQ'S
Q: Do you have to pay to park at Willen Lake?
A: Visitors to Willen Lake can take advantage of paid car parking facilities.

Q: Can you swim in Willen Lake for free?
A: Please be aware that Open Water Swimming is only allowed at Willen Lake during managed sessions. It is strictly prohibited outside of these designated sessions and in any other lakes in Milton Keynes.

Q: Is Willen Lake dog friendly?
A: While Willen Lake is dog friendly, visitors are kindly requested to keep their dogs on leads, particularly when in close proximity to the ducks.

Visit Willen Lake while staying at Villiers Hotel
Brickhill Street MK15 0DS England