Faulty Towers Live: An Hilarious Interactive Restaurant Show
How Hard Can You Possibly Laugh Over A Meal?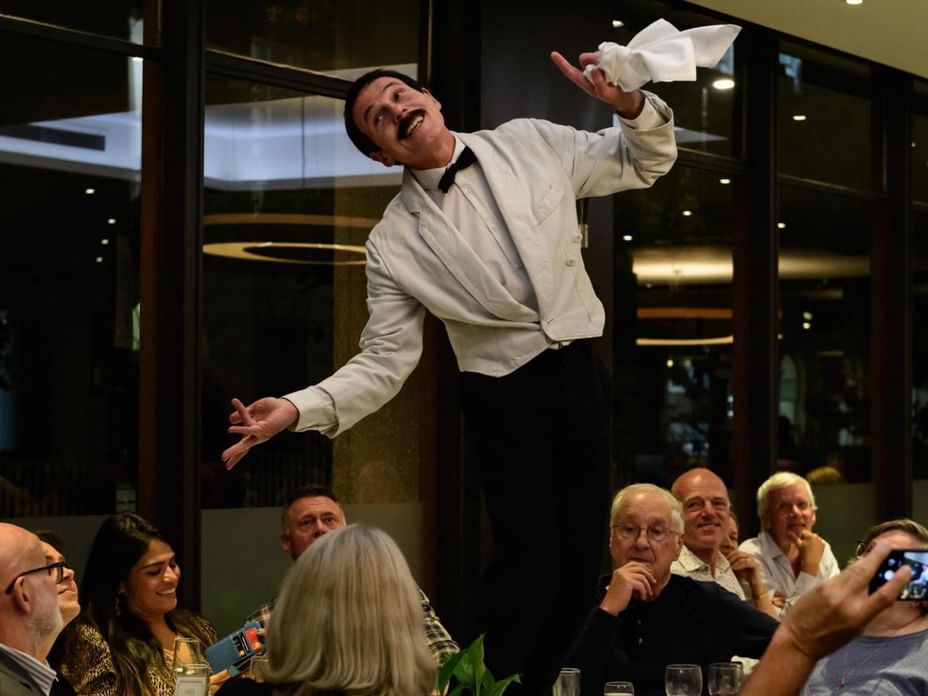 Get ready for an evening of chaos, hilarity, and delicious food. Villiers Hotel in Buckingham, UK is proud to present Fawlty Towers Live - an immersive dining experience bringing the iconic comedy series to life in 2024. Relive your favorite farcical moments from Basil, Sybil, and Manuel as they wreak havoc through an interactive show.
While it's not officially affiliated with the BBC series, you'll be caught up in the brilliant impersonations of your favorite characters as the talented performers from Interactive Theatre capture the spirit of Basil, Sybil, and Manuel perfectly for an evening you won't forget.
Step Into the Madcap World of Fawlty Towers
Inspired by one of Britain's greatest comedy series, this 2-hour production transforms our dining room into Fawlty Towers itself. As you enjoy a three-course meal, the performers will stay in character and bring the incompetent staff you know and love to life.
Expect spilled drinks, botched orders, and riotous mishaps galore! The cast will improvise humor based on the audience, and classic scenes from the show will play out around you. Witness Basil's frustration with Manuel first-hand and Sybil's ill-timed jokes. Brace yourself for nonstop hilarity - but try not to choke on your food!
Book These Events Here At Villiers Hotel APRIL Performance OR JUNE Performance - Our October Faulty Towers Dining Experience Performance is not yet on sale.
Your All-Access Pass to the Madness
This wildly popular interactive show has been selling out venues across the world since its debut in 1997. Critics and audiences alike rave about its side-splitting humor and spot-on Fawlty Towers rendition.
Interactive Theatre now has Faulty Tower shows operating in dozens of different countries across the planet and there could be twenty perfomrances of the Live Fau;ty Towers Dining Experience on any one day so prolific and enduring is its popularity.
Faulty Towers Live: Loved By all Ages
Suitbale for all ages and absolutley approriate for children this is a show that can be enjoyed by entire families! All the performances are in English so are easy to follow and understad even by Primary Schoolers.
The Fautly Towers Live Restaurnat Show
A third of the Interactive Theatre dinner show follows a set scripted storyline, but the rest happens in the moment and is improvised based on the crowd's reactions and participation.

This means no two shows are ever the same. Guests often come back for multiple viewings to the same venue time and again and there is a very high rate of retirning guests. Some people have seen the Faulty Towers Perfmormances over a Meal dozens of times - if you think you hold the record for most shows attended, we want to hear from you!

The joy is that these dinner performances are always changing, so you'll laugh just as hard even if you've seen one here at Villiers before.
Limited Show Dates: Book Your Spot Now!
Villiers Hotel will host Fawlty Towers Live on just three dates in 2024:
- April 13th
- June 21st
- October 5th
Tickets are sure to go fast, so don't miss out! Contact us now to book your seat at one of these exclusive events. With only a handful of riotous shows next year in 2024, these evenings of nonstop hilarity, antics, and great food are not to be missed.
We expect a sellout crowd for all three performances here at Villiers Hotel so why not join us fwhat just might be one of the most unusual and memorable dining experience in Buckingham EVER!
Book These Events Here At Villiers Hotel APRIL Performance OR JUNE Performance - Our October Faulty Towers Dining Experience Performance is not yet on sale.