What Does Tapas Mean? English and Spanish Definitions!
Does the word TAPAS mean the same in English and Spanish, find out here today!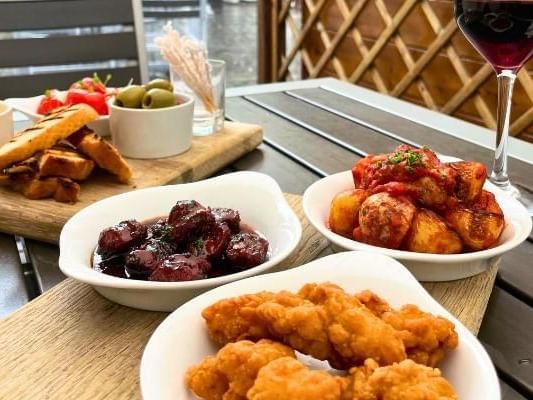 This summer, Villiers Hotel is bringing a taste of Spain to Buckingham with the addition of TAPAS to our special Summer Sizzler selection bar menu.
But What Does Tapas Mean exactly?
While the word may be familiar, many don't fully understand the history and diversity behind this iconic Spanish dining tradition.
More than just small plates or appetizers, tapas encapsulate the very essence of Spanish culture, hospitality, and socialising, and here at Villiers, we wish to bring those elements to the hotel.
Read on to find out more and discover for yourself the answer to the burning question of What Does Tapas Mean as we attempt to make the explanation in both English and in Spanish.
What Does Tapas Mean | In English?
Tapas, as we generally know it in English, refers to small plates, appetizers, or snacks that originate from Spanish cuisine. It describes am entire communal style of eating where small portions of different foods are on offer.
English speakers will almost always associate tapas as being small snacks served with drinks.
Tapas, however, depending on where you visit or which eatery you frequent, can absolutely be entire meals.
What Does Tapas Mean | In Spanish?
The word "tapas" comes from the Spanish verb "tapar" which literally means "to cover." This refers to the tradition of placing a small piece of food or a lid over drinks to keep fruit flies out.
Over time, these "covers" evolved into the small plates or appetizers that we know as tapas today.
So, in Spanish, the word "tapas" can refer specifically to the lids or covers placed on drinks, in addition to small plates of food.
What Exactly Is Tapas?
This is an open-ended question that in reality, cannot be answered 100% correctly, as it very much depends on where you are eating your tapas (Country and Region).
But if we had to give an outright definition of Tapas then the following would be pretty close:
Tapas are appetizers or snacks that originate from Spanish cuisine. They consist of small portions of various foods like meat, seafood, cheese, vegetables, and regional specialties served in individual bite-sized plates or skewers for sharing.Tapas represent Spain's convivial culture of snacking and grazing socially over drinks in a relaxed atmosphere.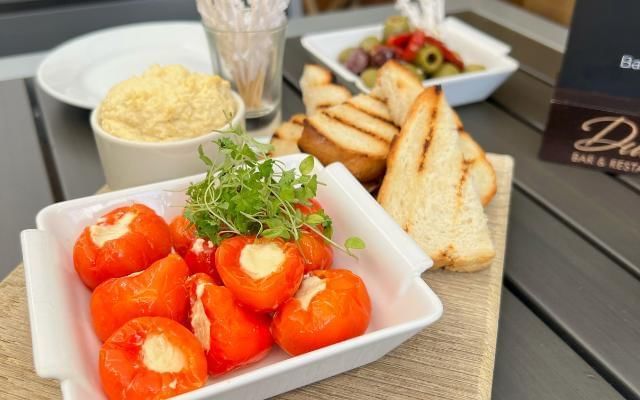 The History of Tapas
The origins of tapas stretch back centuries, rooted in legends of Spanish sherry-drinkers covering their glasses with bread or meat to keep out flies.
This impromptu "lid" eventually evolved into a small snack to accompany drinks.
Over time, these bites became more elaborate, transforming into the wide regional variations seen today. The name, as we discovered earlier, means to cover.
The most favoured story of origin is in regard to Spanish King Alfonso XIII who it is said, began the cultural phenomenon of tapas on a trip through southern Spain. To safeguard the king's beverage from the ensuing winds and the relentless gusts that bought swirls of sand, one very astute bartender ingeniously placed a savoury slice of cured ham atop the King's wine glass.
Delighted by the clever solution, the king embraced the concept wholeheartedly, and thus, tapas came into delightful existence!
Whatever the actual History of Tapas, from the miniature skewers of pintxos in the Basque Country to the generous free tapas of Andalusia, it's the diversity of ingredients, sizes, and presentation that has become part of what makes tapas such a quintessential Spanish dining experience.
The evolution of tapas itself reflects Spain's rich regional identities and culture of friendliness that's connected with communal drinking and eating experiences.
Regional Tapas Styles and Variations
One of the most captivating aspects of tapas is the diversity across Spain's different regions. Though tapas restaurants can now be found worldwide, the local styles are still distinct and nuanced.
• In Andalusia, tapas portions tend to be larger and free with the purchase of drinks. Some common Andalusian tapas are fried fish like adobo, hearty stews like pringá, and eggplant dishes like berenjenas con miel.
• The Basque Country is known for pintxos - bite-sized tapas mounted on bread and held together with a toothpick. Typical pintxos include seafood, mushrooms, smoked meats, roasted peppers, and seasoned cheeses.
• Tapas in Madrid vary widely from a simple bowl of olives to substantial raciones. Well-known Madrid tapas include oxtail stew, fried artichokes, and cocido madrileño.
• In Barcelona, tapas menus offer individual raciones, allowing patrons to mix and match. Look for tapas like esqueixada (shredded salt cod salad), escalivada (fire-roasted vegetables), and bombas (fried potato croquettes).
• Other regional tapas specialties are banderillas (skewers with pickles, olives, peppers), pulpo gallego (Galician octopus), and conservas (high-quality preserved seafood).
With their different histories and access to local ingredients, each region of Spain has put its own twist on tapas over the centuries. Part of the fun is sampling this diversity!
Classic Tapas Dishes and Ingredients
While tapas come in endless regional varieties, there are some iconic dishes that can be found on menus across Spain. Getting familiar with these classics is an integral part of understanding true Spanish tapas.
• Tortilla Española - This hearty omelette with potatoes and onions appears in tapas bars everywhere. Other popular egg dishes are revueltos (scrambled eggs with vegetables or meat) and huevos rotos (fried eggs over potato chips).
• Patatas Bravas - Cubed, fried potatoes served with a spicy tomato sauce and cooling aioli. Fried foods are common tapas ingredients.
• Pan Con Tomate - Grilled bread rubbed with fresh tomato, garlic, and olive oil. Bread, especially crusty baguette style, is a tapas staple.
• Gambas Al Ajillo - Garlic shrimp sautéed in olive oil is a classic tapas bar favourite. Seafood and olive oil are essential Spanish ingredients.
• Pulpo Gallego - Galician-style octopus, usually boiled then drizzled with paprika, olive oil, and sea salt.
• Jamón Serrano - Dry cured Spanish ham, either served alone or incorporated into dishes like croquetas.
• Aceitunas - Olives marinated in olive oil, spices, and herbs are an easy, crowd-pleasing tapa.
From the common options above you can then branch out and discover some of the more obscure regional specialties.
Regional Tapas Options Available in Buckingham in the UK
At Villiers Hotel in Buckingham, we're proud to showcase authentic Spanish tapas recipes like Patatas Bravas, Marinated Olives and Warm Chargrilled Rustic Bread with Humus among other tapas options.
Pair these with a glass of prosecco or perhaps a refreshing lager beer and it's the perfect way to experience Spain without leaving the UK.
This summer, gather your friends and enjoy the magic of tapas alfresco-style on our new terrace menu.
How to Enjoy Tapas Like a Local
To make the most of tapas rich culture (especially if travelling thorugh SPain) it absolutely helps to know a few tips and tricks that the locals might be aware of.
• Go at peak times between 8pm and midnight when tapas bars are liveliest, and dishes are freshest. Late lunch around 1:30-3:30pm is another option.
• In Madrid and elsewhere, standing and eating at the bar is customary. This facilitates sharing, mingling, and quick service.
• Order a few dishes at a time to share family-style. Try different items as you go.
• Expect raucous conversation and noise as part of the experience. Go with an open mind!
• Pair tapas with traditional drinks like beer, wine, vermouth, or sherry. Try local specialties.
• Be adventurous with new ingredients you haven't tried before. Part of tapas is discovery!
• Don't be afraid to order conservas (high-quality canned seafood). It's common and delicious.
• By going at peak times, ordering a variety of sharable plates, sipping local drinks, and opening your mind, you'll be tapas-ing like a true Spaniard in no time.
The Secret to Ordering Tapas
Far be it for us to presume we know better than the professionals when it comes to ordering Tapas. Especially as we might be a little biased in regard to what we might order here at Villiers Hotel.
Why not check out this short video about the Secret to Ordering Tapas so, if you do plan on visiting Spain, you have some solid knowledge from which to begin you culinary tapas journey.
This video is courtesy of Monocle Films and you can view their full YouTube Channel right here.
What Does Tapas Mean | The Final Word from Villiers Hotel
After centuries of evolution, tapas have become an essential part of Spanish gastronomic culture known around the world.
More than just small plates, tapas encapsulate Spain's marvellous shared spirit of enjoying food and drink in a social, relaxed setting and hopefully in this article we've sufficiently covered the answer to the question of What Does Tapas Mean?
The dizzying regional diversity - from bite-sized Basque pintxos to Andalusia's free tapas - also provides insight into Spain's varied landscapes and ingredients.
While tapas restaurants worldwide have popularised these appetizers globally, nothing compares to authentic tapas in their native Spain.
However, in the UK, the next time you're seeking a taste of true Spanish culture, indulge in a proper tapas experience right here at Villiers Hotel where you don't need to board a plane to enjoy the magic of tapas.
So why not gather some friends and let Villiers transport your tastebuds to Spain this summer - no passport required. Book dining HERE at Villiers Hotel today.
¡Buen provecho!