25 Unique Floral Wedding Ideas For Your Special Day
The Ultimate Floral Wedding Theme Inspiration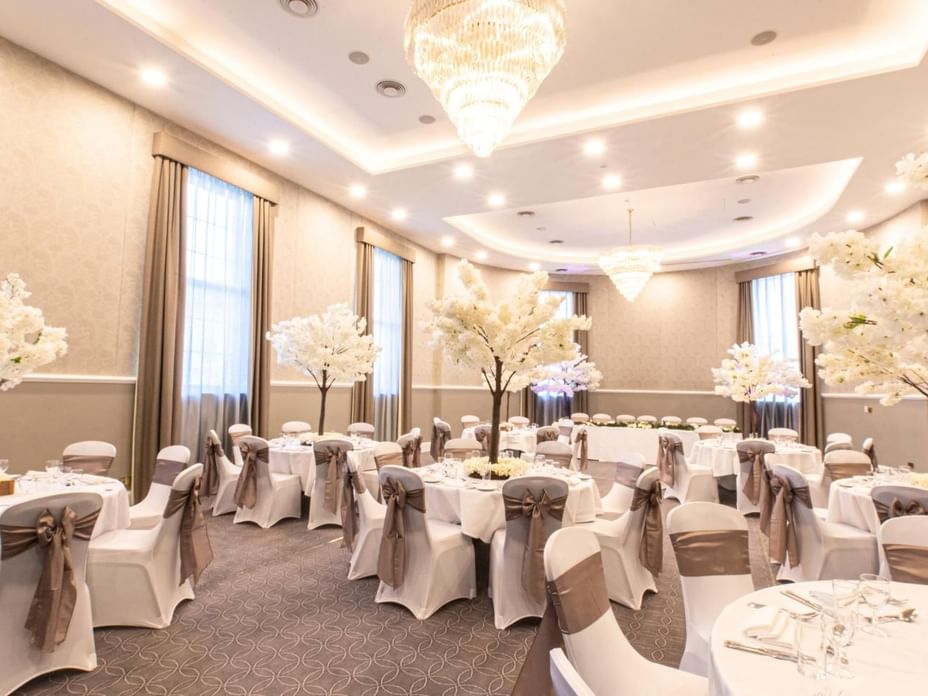 If you're seeking that extra touch of floral elegance, you're in the right place.

Get ready to be inspired as we showcase our favourite floral bouquets, designs and centrepieces that will leave your guests in awe.

As experts in delivering amazing weddings, Villiers Hotel is the perfect Buckinghamshire Wedding Venue to turn your floral dreams into reality.

Let's dive into the world of exquisite blooms and discover how they can make your special day truly unforgettable.
Floral Wedding Ideas
From floral centrepieces to flower walls get ready to explore amazing floral wedding ideas for your special day.

We have gathered some examples of designs that will bring beauty and elegance to your wedding!
Wedding Ceremony Decor Ideas
1. Flower Arch
Imagine walking down the aisle and standing under a gorgeous flower arch.

It becomes the perfect focal point framing the couple as they exchange their vows and creating breathtaking wedding photos.

Whether you choose a delicate arrangement of real flowers or opt for an artificial display, the flower arch will add a touch of elegance and romance to your ceremony.
2. Decorate Chairs
Enhance the charm of your ceremony by decorating chairs with pretty floral arrangements.

This not only makes the overall look of your ceremony more beautiful but also adds a personal touch for you and your guests as they sit down.

The sweet-smelling flowers will fill the air with a delightful fragrance, making your wedding ceremony even more memorable.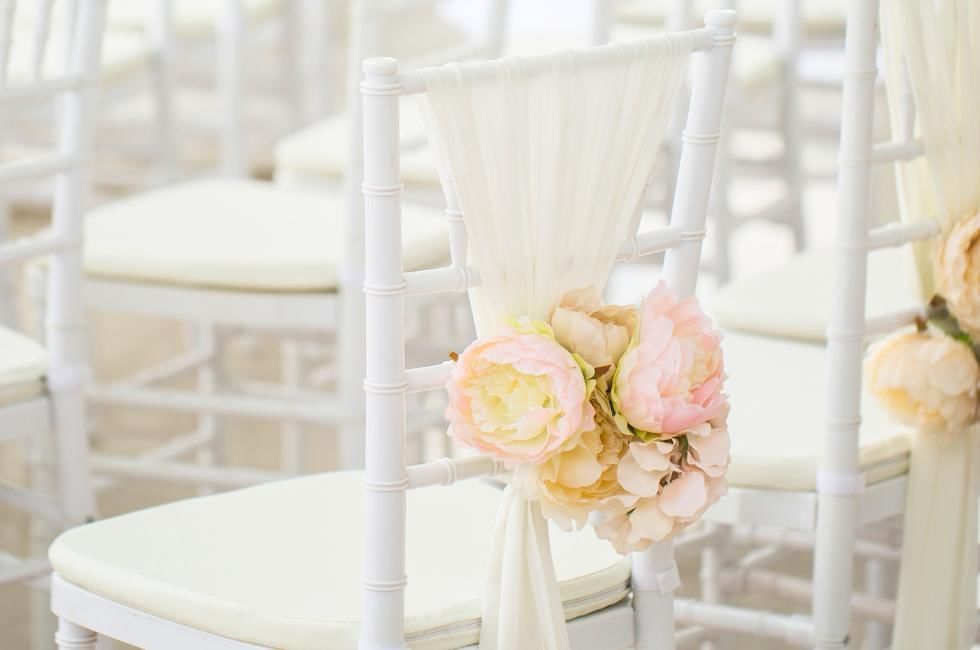 3. Petals
Sprinkle colourful petals along the aisle for a romantic touch. This simple yet impactful addition to your ceremony decor adds a touch of natural beauty.
The vibrant petals can be chosen to match your wedding colour palette or used in a variety of hues to create a gradient effect.
4. Floral Arrangements
Strategically place stunning floral arrangements to make the ceremony space even more beautiful.

From impressive flower pillars at the altar to smaller flowerpots along the aisle, well-placed floral arrangements can turn your wedding ceremony into a breathtaking floral wonderland.
Floral Centrepieces Ideas
1. Floral Garlands
Decorate tables with stunning floral garlands for a lush and elegant centrepiece.

A floral garland gracefully draping across the length of the table adds a touch of romance and opulence to the dining experience.

The garlands can be accented with pinecones, fairy lights, or other decorative elements to create a magical ambiance for your guests.
2. Seasonal Centrepieces
Embrace the beauty of each season by incorporating seasonal flowers into your centrepieces.

By selecting blooms that are in season you ensure their freshness and vibrant colours, while also adding a touch of natural authenticity to your wedding.

For example, spring may bring blossoming cherry blossoms and tulips while summer offers vibrant sunflowers and dahlias.

These seasonal centrepieces not only enhance the overall theme of your wedding but also evoke the spirit of the time of year you have chosen to tie the knot.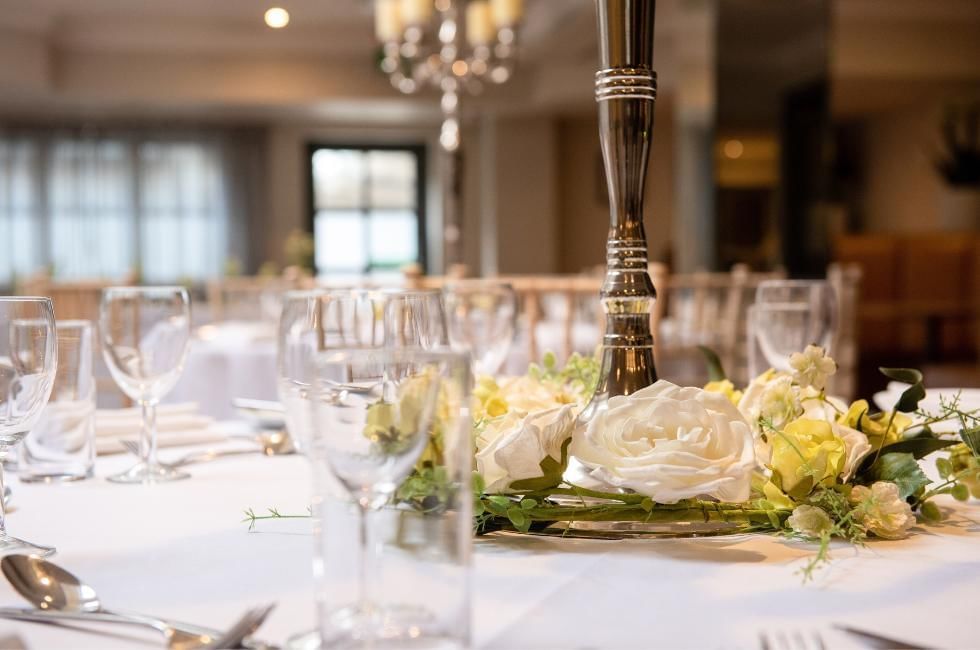 3. Tall Floral Displays
Make a statement with impressive tall floral centrepieces. These arrangements bring a touch of sophistication to your reception.

By using tall vases or stands, you can create stunning displays that not only add beauty to the table but also allow guests to comfortably interact and converse with each other.

This is a popular floral decor choice here at Villiers, and it happens to be one of our favorites too!
4. Festive Centrepieces
If you're having a wedding in late November or December, adding festive touches to your floral centrepieces is a wonderful idea.

Include elements like berries, pinecones or twinkling lights to your floral centrepiece to infuse a festive spirit. Consider using rich reds and greens for a traditional look.
5. Dried Flower Arrangements
Nowadays, many couples choose dried flower centrepieces for their weddings. It's a more environmentally friendly option and adds a rustic touch to the overall vibe.

Dried flower arrangements can be kept as special keepsake allowing you to cherish the memories long after the wedding day has passed.
6. Succulent Displays
Incorporate succulents into your centrepieces for a trendy and modern twist. Succulents come in a variety of shapes, sizes, and colours, making them versatile additions to your floral arrangements.

Their unique shapes and shades of green create a contemporary and eye-catching display, perfect for couples looking to infuse a touch of modernity into their wedding decor.
7. Wildflower Centrepieces
Embrace the natural beauty of wildflowers. With their vibrant colours and delicate blooms, wildflower centrepieces capture the essence of a blooming meadow.

Incorporate flowers like daisies, lavender, or poppies into your arrangements to achieve a rustic and romantic aesthetic.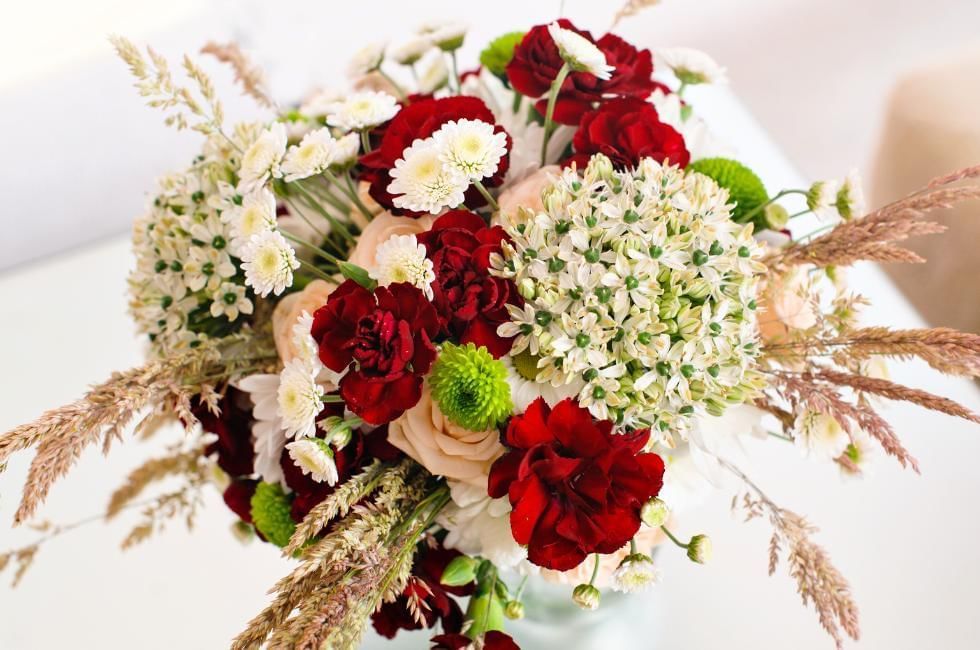 Flower Wall Ideas
1. Create a Photo Moment
Set up a flower wall as a dedicated photo booth area where guests can capture memorable moments.

The wall provides a beautiful backdrop for photos, ensuring that every snapshot is filled with natural beauty and charm. It's a perfect spot for guests to strike a pose and create lasting memories.
2. Add a Personal Touch with Couples Initials
Customise your flower wall by incorporating the initials of you and your partner. This personal touch adds a unique and sentimental element to the decor.

The combination of beautiful flowers and your initials will create a visually captivating focal point that reflects your love.
3. Try an Ombre Wall
Explore the artistic possibilities by creating an ombre flower wall. Gradually transition the colours of the flowers from light to dark or from one shade to another.

This creates a captivating visual effect that adds depth and dimension to the wall, making it an exquisite and eye-catching feature of your wedding decor.
4. Floral Backdrop for Cake
Enhance the presentation of your wedding cake by placing it against a flower wall backdrop.

The combination of the delectable cake and the vibrant blooms will create a stunning focal point at your reception.
5. Seasonal Floral Wall
Embrace the beauty of each season by designing a flower wall that showcases seasonal blooms.

Whether it's the vibrant colours of spring, the lush greenery of summer, the warm tones of autumn, or the crisp whites of winter, incorporating seasonal flowers into your wall brings a sense of natural charm and freshness to your wedding decor.

6. Floral Arrangement in a Frame
Create a unique and artistic display by arranging flowers within a frame to form a stunning wall decor piece.

This creative approach adds a touch of elegance and originality to your floral wall.
Wedding Bouquet Ideas
1. Personal Bouquet
Select all the flowers you love and ask your florist to create a unique bouquet that showcases your personal preferences.

This bespoke arrangement will be tailored specifically to your liking, ensuring that it perfectly captures your individual style and brings joy on your special day.
2. Seasonal Bouquet
Embrace the beauty of the season by choosing a bouquet featuring flowers that are in bloom during your wedding time.

If you're preparing for a winter wedding and need some tips to guide your planning, make sure to visit our Winter Weddings page for inspiration.
3. Wildflower Bouquet
A wildflower bouquet is an ideal choice for couples seeking a more rustic or nature-inspired wedding theme.
4. Dried Flower Bouquet
Embrace a unique and eco-friendly option by opting for a dried flower bouquet. These bouquets offer a timeless and vintage aesthetic, with preserved flowers that can be cherished long after the wedding day.

They add a rustic charm and are perfect for couples looking for a sustainable floral choice.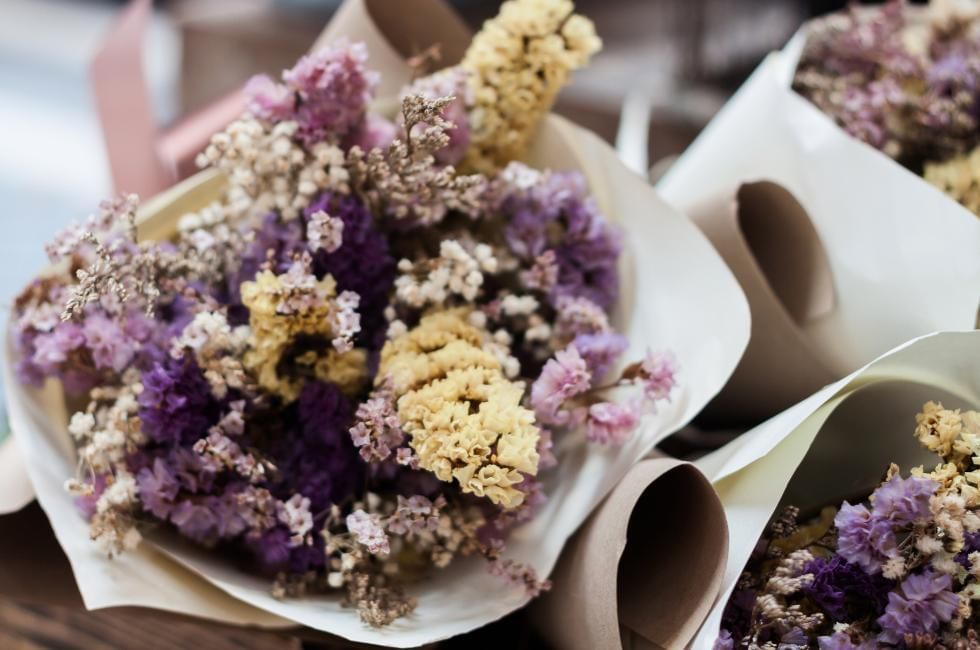 5. Festive Bouquet
Add a festive touch to your wedding by selecting a bouquet that incorporates seasonal elements like holly, berries, or pinecones.

These festive accents bring a joyful and celebratory atmosphere to your bouquet, making it perfect for a winter or festive themed wedding.
Unique Floral Arrangements
1. Flower Chandeliers
A flower chandelier is a hanging installation that add a artistic touch to your celebration.

Suspended from above they come in various shapes and sizes. They create a captivating focal point that will leave your guests in awe of the natural beauty and elegance they bring to the space.
2. Hanging Floral Installations
Elevate your wedding floral arrangements by choosing hanging flowers.

Whether they are displayed above the dining tables or suspended from the ceiling in your ceremony, these hanging blooms are sure to leave a lasting impression on your guests.
3. Floral Wedding Cake
Adorn your wedding cake with exquisite floral decorations transforming it into a breathtaking masterpiece that is as visually stunning as it is delicious.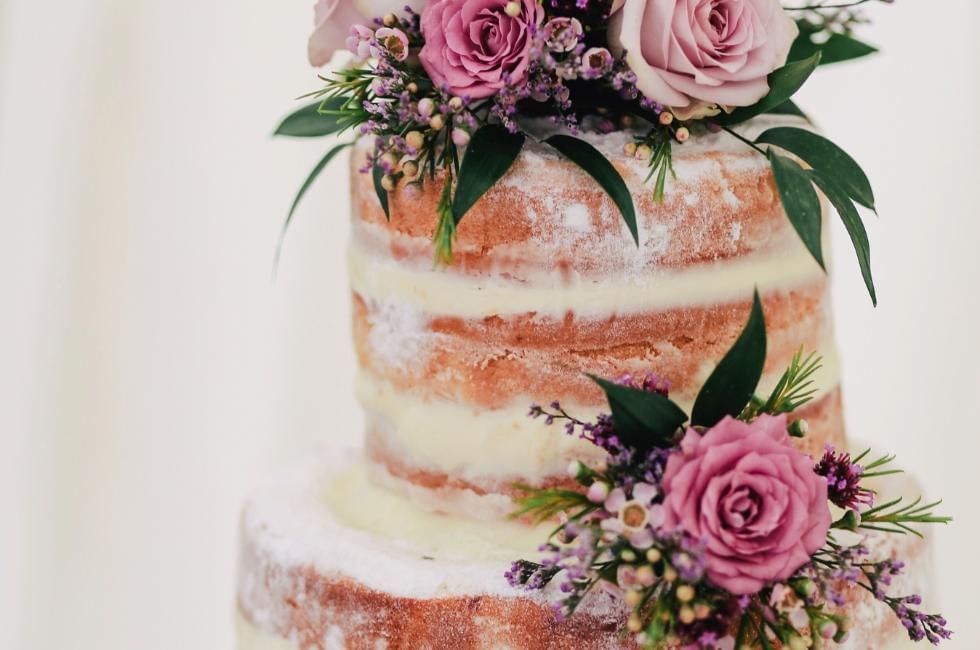 How to Get Your Dream Wedding Flowers on a Budget
If you're looking to stay within a budget for your wedding flowers there are several strategies you can consider.
Swap out expensive options for more affordable blooms or mix and match your favourite flowers with more budget-friendly choices.

Save costs by sourcing flowers locally and seasonally as this helps avoid expensive shipping fees.

Avoid big flower weekends like Mother's Day and Valentine's Day when wholesale flower costs tend to skyrocket.

Repurpose flowers from one part of the event such as the ceremony to another, like the reception.
---------------------------------------------------------------------

We hope you've had a fantastic time exploring these Floral Wedding Ideas and that you're feeling inspired for your special day!

Flowers hold endless possibilities to infuse your wedding with colour, glamour, drama, and fun.

At Villiers Hotel we're delighted to recommend exceptional wedding florists who can bring your floral decor to life with their expertise and creativity.

Come visit our stunning Buckinghamshire Wedding Venue and let us help turn your dream wedding into a reality.

---------------------------------------------------------------------
Frequently Asked Questions Related To: Floral Wedding Ideas
Q: What colour is most often used for wedding flowers?
A: White is a classic and timeless colour often chosen for elegant weddings. However, when it comes to wedding flowers, it's entirely a matter of personal preference. You should choose whatever flowers you love and feel most excited about for your special day. It's your wedding, after all, and your choice of flowers should reflect your unique style and taste.

Q: How many days before wedding should you arrange flowers?
A: When it comes to timing it is generally recommended by experts to arrange your flowers two days before your event. This allows sufficient time for preparation, rehydration, and designing the floral arrangements before your big day. But check with your wedding florist first!

Q: Who pays for flowers at the wedding?
A: The responsibility of paying for wedding flowers can vary and is typically determined by the preferences of the bride, groom, and their families. It is up to them to decide who will contribute towards the cost of the flowers and other wedding expenses. Some couples may choose to cover the expenses themselves, while others may receive financial assistance from their families. Ultimately, the decision on who pays for the flowers at the wedding is a personal and individual one.