Xscape Milton Keynes: A Wonderland for Fun Seekers
What Isn't There To Do Here is the Question?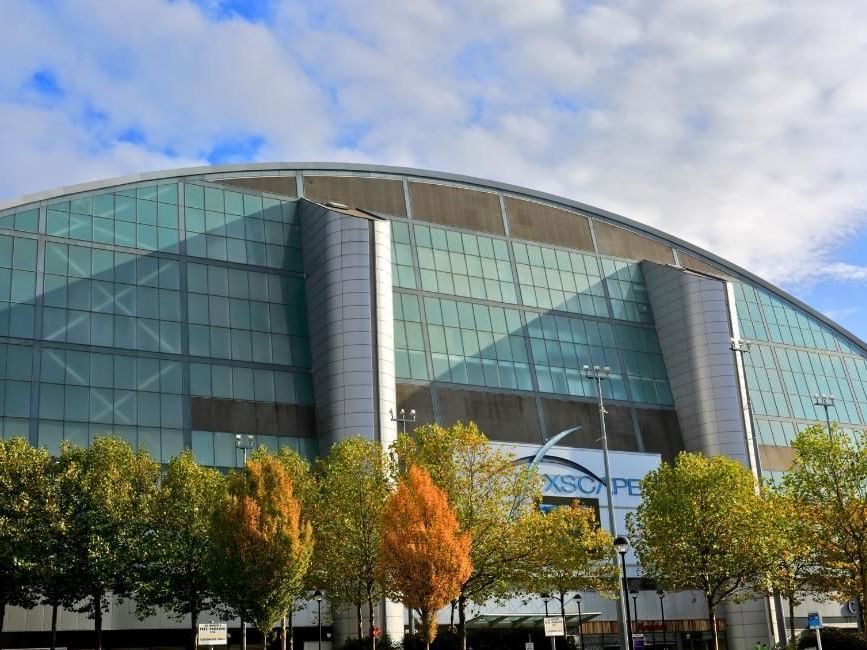 Welcome to Xscape Milton Keynes, the ultimate destination for adventure, fun & thrill seekers!
Nestled in the heart of Milton Keynes just a short drive from Villiers Hotel in Buckingham, Xscape offers a thrilling array of activities and experiences that will leave even the most daring adrenaline junkies wanting more.
Whether you're an avid skier, a skydiving enthusiast, a climbing aficionado or are just interested in entertainment and dining, then, Xscape has something to satisfy your craving for retail terapy or adventure.
Xscape Milton Keynes: An Abundance of Impressive Facilities
As you step inside Xscape's doors, you'll be greeted by a sprawling complex teeming with an array of impressive facilities that cater to every adventurous whim and from the moment you arrive, your senses will be captivated by the electric atmosphere that permeates throughout this adventure hub.
The facilities at Xscape Milton Keynes are designed to cater to all age groups and skill levels, ensuring that everyone can find their own brand of excitement.
Whether you're seeking an adrenaline rush on snow-clad slopes or yearning to defy gravity while indoor skydiving, Xscape has it all.
As you arrive you can just look around and witness the magnificent indoor skiing and snowboarding slopes that beckon winter sports lovers to carve their way through simulated powder-white trails and where daredevils can test their mettle on towering rock climbing walls that provide thrilling challenges for climbers of all abilities.
But Xscape isn't just about heart-pounding activities; it's a complete entertainment package.
With state-of-the-art cinemas showcasing the latest blockbusters, tantalising dining options ranging from cosy cafes to trendy restaurants, and fantastic shopping opportunities scattered throughout the complex—Xscape aims to cater to your every need.
So pack your spirit of adventure along with your curiosity because at Xscape Milton Keynes, exhilaration awaits around every corner, and we aim to tell you all about it right here in this article so we hope you enjoy the read.
Amp Up Your Adrenaline with Xscape Climbing in Milton Keynes
Xscape is not your average recreational centre; it's an adventurer's paradise. Imagine feeling the rush as you conquer towering rock climbing walls designed to challenge your strength and agility.
Reaching New Heights: Conquer the Vertical Challenge!
At Xscape Milton Keynes, adventure seekers are in for a treat with a range of rock climbing walls that cater to everyone, from beginners to seasoned climbers and wWhether you're testing your strength and agility for the first time or you're an experienced climber looking for an exhilarating challenge, Xscape has got you covered.
The climbing walls at Xscape showcase various difficulties and terrains, ensuring there's something for everyone.
One of the highlights is the "Craggy Island," a towering wall resembling rugged cliffs that will transport you to the heart of nature's grandeur.
With its realistic features such as handholds resembling rocks and crevices, climbers can experience an authentic outdoor rock climbing adventure without leaving the comfort of Xscape.
For those who prefer a more controlled environment, there is also the "Precision Wall," designed specifically to test your technique and precision.
This wall is equipped with smaller holds placed at varying distances from one another, challenging climbers to strategise their movements and conquer each step with finesse.
Safety is paramount at Xscape Milton Keynes. The rock climbing walls come equipped with state-of-the-art safety equipment, including harnesses and ropes that ensure climbers are securely fastened throughout their ascent.
Trained staff members are always present to provide guidance and assistance whenever needed. They will gladly offer tips on technique or suggest alternative routes if you find yourself stuck.
No matter your level of expertise or confidence, they will make sure your climb is both enjoyable and safe.
So whether you're looking to push your limits or simply enjoy a fun day out with friends or family, head over to Xscape Milton Keynes' rock climbing walls—the epitome of excitement and challenge all under one roof!
Xscape Milton Keynes: Indoor Skiing & Snowboarding
The Thrills of Snow-Covered Indoor Slopes!
When it comes to satisfying your craving for skiing and snowboarding, Xscape Milton Keynes takes the adventure to new heights with its world-class indoor slopes that will leave you exhilarated.
Imagine gliding down pristine slopes surrounded by a winter wonderland, regardless of the season outside. The slopes at Xscape are meticulously designed to replicate the feel and challenges of real mountains, ensuring an authentic and thrilling experience for all.
Different Levels of Difficulty: Whether you're a seasoned pro or a novice taking your first steps on skis or a snowboard, Xscape has something for everyone. The slopes are divided into different levels of difficulty, catering to all skill levels. Beginners can start on gentle slopes with lower inclines to gain confidence while experienced riders can take on steeper challenges that test their skills and push their limits.
Professional Instructors: If you're new to skiing or snowboarding or want to improve your technique, don't worry!
Xscape Milton Keynes offers professional instructors who are adept at teaching beginners as well as helping advanced riders hone their skills. These experts have years of experience under their belts and are passionate about sharing their knowledge on mastering the art of skiing or snowboarding.
Whether you're looking for an adrenaline-pumping adventure or simply want to try something new, indoor skiing and snowboarding at Xscape Milton Keynes provides an extraordinary experience without having to wait for winter or travel long distances to hit the mountains.
So grab your gear (or rent some from Xscape) and get ready for an unforgettable day on the slopes!e
Indoor Skydiving Experience at Xscape Milton Keynes
Prepare for an adrenaline-fueled adventure like no other at Xscape Milton Keynes, where you can experience the thrill of skydiving indoors! This exhilarating activity is perfect for those seeking an unforgettable experience without leaping out of a plane.
Strap on your gear, step into the vertical wind tunnel, and get ready to defy gravity.
The Vertical Wind Tunnel: A Freefall Simulation
Once inside the wind tunnel, you'll feel a powerful rush as the wind speeds up to create an upward force that mimics the sensation of freefall. t's a breathtaking feeling as your body lifts off the ground and you float effortlessly in mid-air.
The vertical wind tunnel technology at Xscape is designed to replicate the conditions experienced during skydiving, giving you an authentic taste of this extreme sport.
Xscape Milton Keynes: Trampoline Park
At Xscape in Milton Keynes at the Gravity Trampoline Park, fun knows no bounds, from the young to the young-at-heart!
Experience the excitement of GRAVITY, where you can bounce to your heart's content on our interconnected trampolines.
Challenge your friends to thrilling games of slam-dunk or dodgeball or hone your skills on the big air bag for some high-flying action.
If you prefer a more relaxed atmosphere, unwind in our viewing gallery while the kids exhaust themselves, and enjoy a cup of coffee, a cold beer, or a glass of wine, all while staying connected with the free WIFI that's available!
Mini-Golf at Xscape Milton Keynes
Welcome to Volcano Falls Adventure Golf at Xscape Milton Keynes, the newest of their attractions that offers a thrilling mini-golf experience like no other where you can explore three unique courses across two levels and embark on a journey through time and imagination.
Here's what you can expect:
Volcano Valley: Travel back to the prehistoric era with erupting volcanoes, animatronic dinosaurs, palm trees, and a themed golf cart. Capture unforgettable photos in this fantastic setting.
Tropicana Beach Club: Experience beach vibes as you putt your way through a surfer's paradise. Enjoy the tropical theme and add some fun to your golfing adventure.
Coney Island: Immerse yourself in an adults-only carnival adventure. This course captures the essence of a carnival with a unique twist.
Volcano Falls Adventure Golf caters to couples, families, and groups of all sizes. You can even book exclusive hire of one course, two courses, or the entire venue for special occasions or group events.
After your game, relax at the fully equipped bar and indulge in the delicious food option available here.
Xscape Escape Rooms: The Ultimate Escape Hunt Experience
Experience the thrill of a lifetime at Escape Hunt Milton Keynes!
This captivating destination invites you to indulge in a world of adventure and excitement like never before. With an array of immersive experiences to choose from, there's something for everyone to enjoy.
Step into Wonderland and let your imagination soar as you and your team work together to solve mind-bending puzzles, uncover hidden clues, and conquer exhilarating challenges—all against the relentless ticking of the clock.
The highly immersive escape rooms offer real-life adventures that will get your heart racing, while the play-at-home games ensure endless fun-filled moments with friends and family.
Escape Hunt Milton Keynes is the ultimate destination for parties, corporate events, and thrilling nights out with loved ones. Celebrate birthdays, strengthen bonds with team-building exercises, or simply escape the ordinary and embark on an unforgettable adventure.
From 5-star escape rooms to virtual reality experiences, Escape Hunt Milton Keynes guarantees an unforgettable time for all.
Get ready to unlock your inner adventurer and create memories that will last a lifetime. Don't miss out on this incredible escape destination that promises to leave you breathless with excitement!
A Cinematic Delight at Xscape Milton Keynes
But it's not all about physical thrills at Xscape—there's also room for relaxation and entertainment where you can catch the latest blockbuster films on high-quality screens in one of their state-of-the-art cinemas.
Whether you're in the mood for action-packed adventures or heartfelt dramas, there's something for everyone at the Cineworld Complex within Xscape Milton Keynes.
Culinary Delights & Retail Therapy at Xscape milton Keynes
After all these heart-pounding activities, refuel your body at one of Xscape's fantastic restaurants serving up delicious dishes from around the world.
From sizzling steaks to mouth-watering burgers or even exotic sushi rolls – every taste bud will be satisfied here!
Once you've satisfied your hunger, indulge in some retail therapy at the various shops within Xscape Milton Keynes where you can browse through trendy fashion boutiques, pick up sports gear, or even find unique gifts for your loved ones.
Xscape Milton Keynes: Location & More!
A Thrilling Adventure in Milton Keynes
Milton Keynes is a vibrant town renowned for its modernity and urban flair and it's here that lies the ultimate haven for adventure enthusiasts: Xscape.
This adrenaline-infused destination is strategically located, making it easily accessible to thrill-seekers from all corners of the United Kingdom.
Just a short distance away from major cities like London and Birmingham, Xscape offers an escape from the mundane and promises an unforgettable experience.
And as it is just a brief 20 minute drive from Buckingham, a stayover at Villiers Hotel makes for an even more enjoyable weekend away or special treat for the family.
Safety First: Trained Instructors & Measures at Xscape
Don't worry if you're new to indoor skydiving, skiing or rock climbing as safety is paramount at Xscape Milton Keynes.
Before attempting any of their exciting activities, certified instructors will guide you through briefing sessions where they'll teach you the basics to ensure a safe and enjoyable experience.
In addition, the wind tunnel is equipped with state-of-the-art safety features that protect participants at all times. From padded walls to smooth airflow patterns, every precaution has been taken to guarantee your well-being during this high-octane adventure.
Throughout your indoor skydiving experience, instructors will be right there with you in the tunnel, providing guidance and assistance if needed. Their expertise ensures that even first-timers can confidently soar through the air like seasoned professionals.
So whether you're looking to conquer your fear of heights or simply want an unforgettable rush of excitement, Xscape Milton Keynes' indoor skydiving experience is the perfect choice.
Get ready to feel the thrill of flight in a safe and controlled environment that will leave you breathless!
Xscape Milton Keynes: Are You Ready?
As we conclude our exploration of Xscape Milton Keynes: The Ultimate Destination for Adventure Seekers, it becomes evident that this place is more than just a haven for adrenaline junkies.
It's a holistic experience that combines exhilarating thrills, cinematic magic, mouthwatering flavours, and retail therapy. Xscape at Milton Keynes provides exactly that: an escape from the mundane, offering something for everyone to enjoy.
So whether you're seeking an adrenaline rush on the slopes or simply looking to unwind with a good movie and a delicious meal, Xscape Milton Keynes is where memories are made and dreams come true.
Embrace the adventure and let Xscape transport you to a world of excitement and joy and don't forget to check out more of the local area surrounding Buckingham by visiting the Explore Page of our website.
From all the staff here at Villiers, we hope to see you here for a visit with us soon!
---------------------------------------------------------------------------------------------------------------------------------------------------------------------
Xscape Milton Keynes: Visitor FAQs
Are there any height or age restrictions for the activities at Xscape Milton Keynes?
Yes, there may be height or age restrictions for certain activities at Xscape Milton Keynes. It is advisable to check the specific requirements for each activity on their website or contact them directly for detailed information.
Is prior experience required for skiing or snowboarding at the indoor slopes?
Prior experience is not required for skiing or snowboarding at the indoor slopes of Xscape Milton Keynes. They cater to all skill levels, from beginners to advanced. Lessons and equipment rental are available for those who are new to skiing or snowboarding.
Can I book activities or attractions in advance, or is it only on a walk-in basis?
You can walk in on the day but it is HIGHLY recommended to check Xscape Milton Keynes' website or contact them directly to inquire about booking activities or attractions in advance.
Availability and reservation options may vary depending on the specific activity or attraction.
Are there any special packages or discounts available for group bookings?
Xscape Milton Keynes may offer special packages or discounts for group bookings.
It is best to visit their website or get in touch with their customer service to inquire about group rates, packages, and any current promotions or discounts.
All current offers are listed here
What are the safety measures in place for the different attractions at Xscape Milton Keynes?
Xscape Milton Keynes prioritises the safety of its visitors. They have safety measures in place for each attraction, including trained staff, proper equipment, and safety guidelines.
These measures may include safety briefings, age/height restrictions, protective gear requirements, and regular maintenance of the facilities. It's advisable to follow the instructions provided by the staff and adhere to any safety guidelines during your visit.