Bletchley Park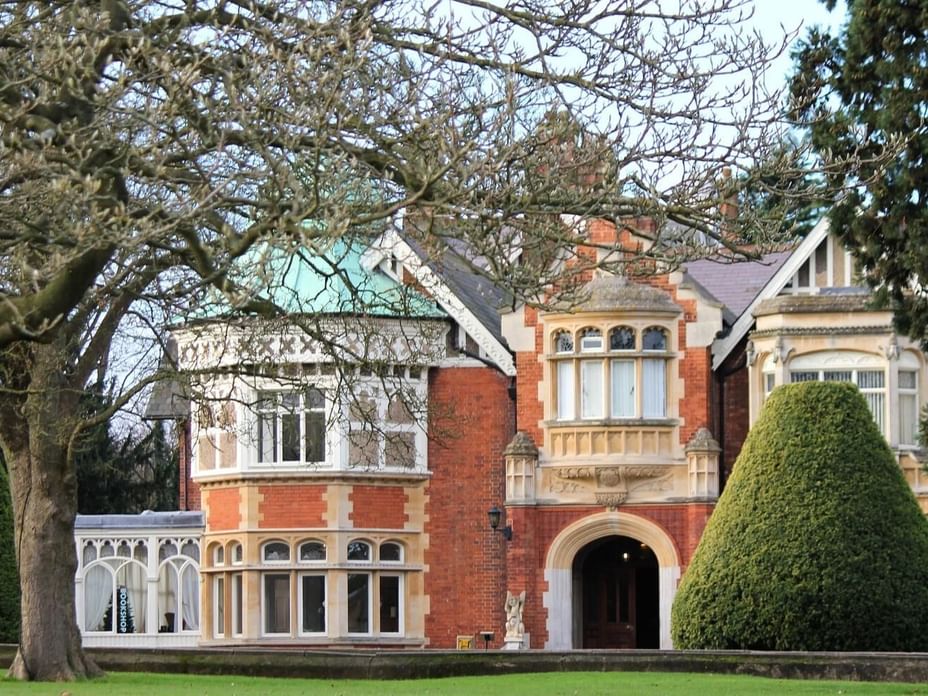 Bletchley Park stands as a fascinating museum and heritage attraction.
Visit Bletchley Park while staying at Villiers Hotel
Step into the very place where Britain's World War Two Codebreakers made incredible achievements and uncover their remarkable story.
THE HISTORY OF BLETCHLEY PARK
After the conclusion of codebreaking operations in 1946 Bletchley Park took on a new role as a host to various training schools.
Teachers, Post Office workers, air traffic control system engineers, and members of GCHQ found their way to the site for specialised training.
In1987 Bletchley Park's fifty-year association with British Intelligence came to an end when it was finally closed.

Unfortunately, there were plans to demolish the entire site making way for housing developments and a supermarket.
Recognising the historical significance of the location and the need to preserve it, the Bletchley Archaeological and Historical Society formed a small committee in 1991.
Their goal was to save Bletchley Park ensuring that its story would live on for future generations' education and enjoyment.
In 1992 the committee succeeded in persuading Milton Keynes Council to designate most of Bletchley Park as a conservation area.
Merely three days late, the Bletchley Park Trust was established and in 1994, its Chief Patron, HRH The Duke of Kent, inaugurated the site as a museum open to the public.
The Trust was granted a 250-year leasehold of the core historic areas of the Park in June 1999, solidifying its commitment to preservation.
Additionally, in 2009, the Heritage Lottery Fund provided essential support through a successful bid.
Bletchley Park is now a historic visitor attraction welcoming over 250,000 visitors each year..
WHERE IS BLETCHLEY PARK IN MILTON KEYNES? HOW DO I GET THERE?
Location: Bletchley Park is located on Sherwood Drive, Buckinghamshire.
The museum is easily accessible from Bletchley train station, and it's just a short walk away taking only a few minutes.
Address: Bletchley Park, Sherwood Dr, Bletchley, Milton Keynes, MK3 6EB
By Car: Located at Junction 13 off the M1, Bletchley Park provides clear directions for visitors.

To ensure accurate navigation, it is recommended to enter the address "Sherwood Drive MK3 6DS" instead of relying solely on the postal address as it may lead to an incorrect location.
Parking: Once you arrive there is free on-site parking.

However, during busy event days, it may be necessary to find alternative parking options.

The on-site car park also includes designated spaces for disabled parking and features two electric car charging points, catering to the needs of environmentally conscious visitors.
FOOD & DRINK AT BLETCHLEY PARK
Bletchley Park offers a variety of food and drink options for visitors to enjoy.

They serve freshly cooked hot meals, sandwiches, snacks, cakes, and a selection of hot and cold beverages.
BLETCHLEY PARK PACKAGE
Experience an unforgettable journey through history with an extraordinary overnight stay for two at Villiers Hotel in Buckingham.

Enjoy a visit to the renowned Bletchley Park Museum immersing yourself in the captivating world of codebreaking and intelligence.

Don't miss out on this remarkable opportunity and secure your Bletchley Park Package gift voucher today.
BLETCHLEY PARK MAP
Check out all the relevant information on Bletchley Park including opening times, admission prices & much more HERE.
BLETCHLEY PARK FAQ'S
Q: How much time do you need at Bletchley Park?
A: To make the most of your visit to Bletchley Park they suggest allocating approximately four to five hours as there is a wide array of activities and attractions to explore.

Q: Is parking free at Bletchley Park?
A: Visitors to Bletchley Park have access to free on-site parking for cars, ensuring convenient arrival. During busy event days it may be necessary to seek alternative parking options. The on-site car park provides designated spaces for disabled parking, catering to the needs of all visitors. There are also two electric car charging points available for those driving electric vehicles.

Q: Can I take a picnic to Bletchley Park?
A: Customers are allowed to bring their own food to Bletchley Park.

Visit Bletchley Park while staying at Villiers Hotel
Sherwood Dr MK3 6EB Bletchley