Chandos Park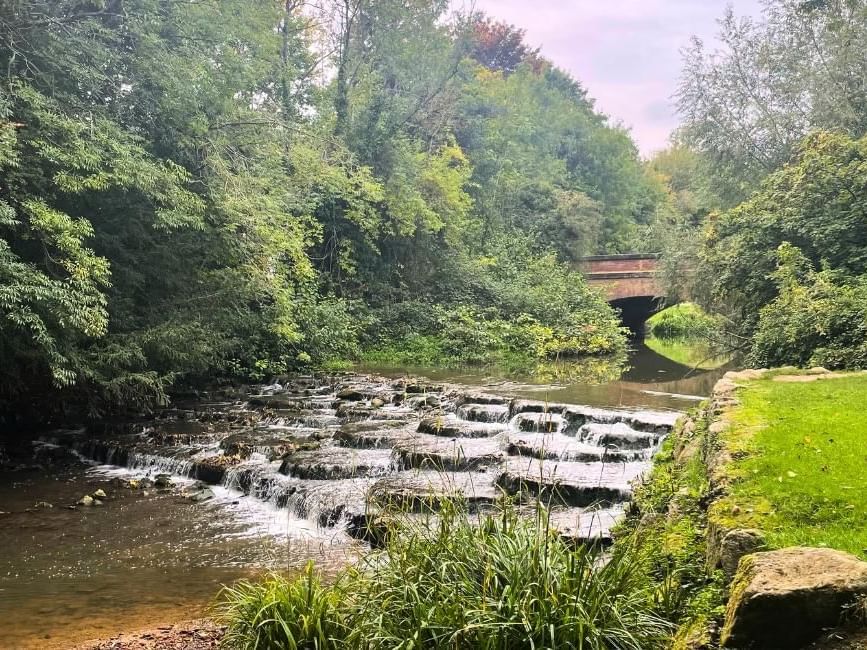 Nestled at the centre of Buckingham, Chandos Park is a beautiful and green haven.

Visit Chandos Park while staying at Viliers Hotel

The park's highlight is the river Great Ouse a scenic spot ideal for leisurely walks and delightful picnics.
THE HISTORY OF Chandos Park
In 1966 the Buckingham Borough Council acquired the land with the intention of creating a public park.

The park's development incorporated the existing bowling club, which had been established in 1932 for the employees of Wiltshire United Dairies.

Named after the Duke of Buckingham and Chandos, Chandos Park officially opened in 1966.
WHERE IS Chandos Park IN Buckingham? HOW DO I GET THERE?
Location: Chandos Park is located in the heart of Buckingham town, Buckinghamshire.

Address: Chandos Park, Buckingham MK18 1AL

By Car: Chandos Park in Buckingham is easily accessible by car just put the postcode (MK18 1AL) into your navigational system.

Parking: Cornwalls Meadow pay and display car park is conveniently located near Chandos

Parking. For directions, use the post code MK18 1RP. Aylesbury Vale District Council provides detailed information on charges and available parking spaces.
Play Areas at Chandos Park
The play area at Chandos Park offers a variety of fun for children of all ages from infants to teens.

It features climbing frames, swings, infant swings, slides, a wheelchair-accessible roundabout, and an adventure trail. Kids can enjoy a range of activities making it an exciting spot for playtime.
EVENTS AT Chandos Park
During the summer Chandos Park becomes a hub of exciting activities for children, thanks to Play Around the Parishes.

With inflatables, arts and crafts, toys, and more, these free events cater to kids aged 0-11. Sponsored by Buckingham Town Council and in partnership with Aylesbury Vale District Council, these fantastic events are a hit with the young ones.

For older kids aged 8-12 free Basketball is a summer favourite. They can drop in at the basketball court and join a local qualified coach for games and training throughout the summer break.

As autumn approaches the Park's section of the River Great Ouse gets a clean-up during River Rinse. Volunteers from the local group Stowe Sub Aqua Group, along with the Town Council and locals, gather together for two sessions to clear up litter that has accumulated in the river or riverbank, contributing to a clean and healthy environment.
Sport and Leisure at Chandos Park
Chandos Park boasts a multi-use games area perfect for football or basketball games and available for free use anytime.

Additionally, the park proudly hosts Buckingham Tennis Club and the Chandos Park Bowls Club. Non-members and members can easily book court use at the Tennis Club through their convenient online booking system.

For those interested in joining either the Tennis Club or the Bowls Club, simply get in touch with them directly for further details and membership information.

Chandos Park offers a range of sporting opportunities, making it a delightful place for both residents and visitors to enjoy various activities.
Chandos Park MAP
Check out all the relevant information on Chandos Park facilities & much more HERE.
Chandos Park FAQ'S
Q: Is Chandos Park Buckingham dog friendly?
A: Well-behaved dogs are warmly welcomed at Chandos Park. However, visitors are kindly asked to keep their dogs under control and clean up after them responsibly. Clear signs indicating on-lead areas and dog-free zones can be found throughout the Parks for everyone's convenience.

Q: What river is near Chandos Park Buckingham?
A: The river Great Ouse is one of Chandos Park's highlights.

Visit Chandos Park while staying at Viliers Hotel

Chandos Park MK18 1AL England